Dr Emma Mackinnon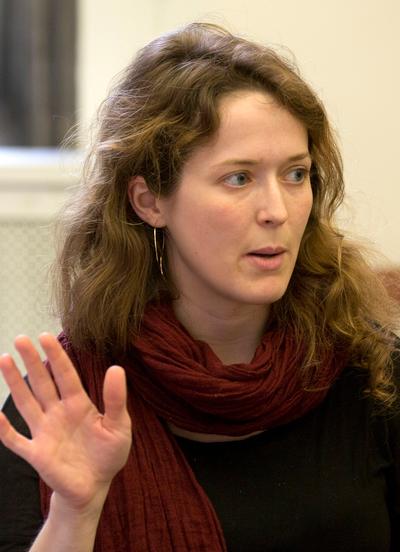 BA (Harvard) MA (Chicago) PhD (Chicago)
Official Fellow; Tutor; Director of Studies in History and Modern Languages; Director of Studies in History and Politics
University Lecturer in History
My teaching and research is in contemporary political theory and the history of political thought, with broader research interests in histories of human rights and humanitarianism, anticolonialism, international political thought, and the relationship between history and politics. I came to Cambridge from the University of Chicago, where I completed a doctorate in Political Science. I arrived in 2017 as a Junior Research Fellow at Emmanuel; as of January 2020, I took up a university lectureship in the History Faculty and became an official fellow of the College.
My current book project concerns the legacies of the eighteenth-century French and American rights declarations in mid-twentieth century politics of race and empire. It serves to question a narrative in which those foundational declarations are viewed as universal in their aspirations but often contradicted in practice. In this story, rights promises may have been unfulfilled – or, worse, a mask for imperial ambitions – but nonetheless enabled later rights claims. I argue against viewing ideals as separate from practice, and trace how, historically, narratives about gradual universalization helped justify forms of imperial and racial domination in the twentieth century. Drawing on the work of political actors who opposed such domination, I identify alternative critiques of hypocrisy, drawing out an anti-imperial version of human rights promise-making.
My work has been published or is forthcoming in journals and edited volumes including Political Theory, Humanity, The Blackwell Companion to Arthur Danto, and Situating Contingency in the Course of International Law. It has been supported by the Mellon Foundation, New York Public Library, France Chicago Center, Pozen Family Center for Human Rights, and University of Chicago Social Science Division. My dissertation, "Imperial Promises: The Contested Politics of Human Rights in the Twentieth Century," won the 2018 Richard Saller Dissertation Prize for best dissertation that year from the University of Chicago Social Sciences Division.
At Cambridge, I lecture in "Political Philosophy and the History of Political Thought Since c. 1890" (History Part II Paper 5 / POL 11). I supervise for that paper as well as "The Modern State and its Alternatives" (POL 1), "The History of Political Thought from c.1700 to c.1890" (History Part I Paper 20 and Part II Paper 4/ POL8 and POL10), and "The History of the United States from 1865" (History Part I Paper 24). I also teach and supervise PhD students in History and MPhil students in the MPhil programs in Political Thought and Intellectual History and in Modern European History. At Emmanuel, I direct studies for students in the History and Politics joint tripos. In Michaelmas and Lent 2020-2021 I will also serve as an Acting Tutor in the College.
I grew up in Brooklyn, New York, and did my undergraduate studies at Harvard, where I concentrated in Social Studies. Before graduate school, I lived in New York City and in Washington, DC, working for four years at a political communications firm and for one year at a social policy research organization.
Publications:
Mackinnon, Emma Stone. "Declaration as Disavowal: The Politics of Race and Empire in the Universal Declaration of Human Rights." Political Theory 47, no. 1. February 2019. https://doi.org/10.1177/0090591718780697
Mackinnon, Emma Stone. "Promise-Making and the History of Human Rights: Reading Arendt with Danto," Humanity 19, no. 2 (Summer 2018). https://muse.jhu.edu/article/703634
Mackinnon, Emma Stone. "Arthur Danto as Human Rights Activist," invited submission to Blackwell Companion to Arthur C. Danto, ed. Lydia Goehr and Jonathan Gilmore, Blackwell, forthcoming.
Mackinnon, Emma Stone. "Contingencies of Context: Legacies of the Algerian Revolution in the 1977 Additional Protocols to the Geneva Conventions," in Situating Contingency in the Course of International Law, ed. Kevin Jon Heller and Ingo Venzke, Oxford University Press, forthcoming.
Additional information on my research and teaching is available on my personal website.
---
Subjects
---
Email
---