Dr Laura Moretti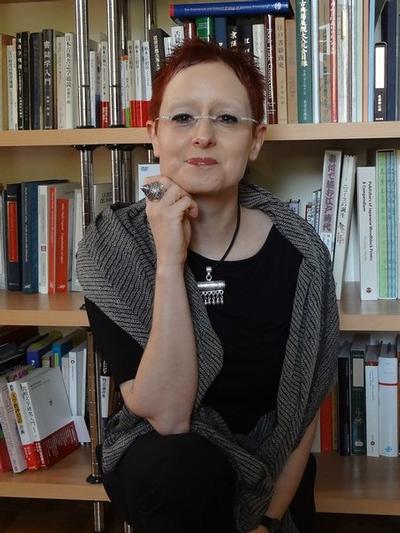 MA (Venice) PHD (Venice)
Official Fellow; Director of Studies in Asian & Middle Eastern Studies
University Senior Lecturer in Pre-Modern Japanese Studies
Biography
After a BA and an MA in Japanese Studies at Università Ca' Foscari Venezia (Italy), in 2003 I earned a PhD at the same university. Following the Italian practice at the time, I spent the first two years of my PhD course studying at Tokyo University as a research student (kenkyusei) with the help of a Monbukagakusho Scholarship. My study focused on Edo-period literature and I was trained mainly by Profs Nobuhiro Shinji and Nagashima Hiroaki. I pursued and further strengthened my interests in 17th-century Japanese prose by working with Prof Fukasawa Akio (Showa Joshi Daigaku) and Oka Masahiko (NIJL and Sophia University).
I have many years of teaching/research experience. I started as a Teaching and Research Associate at Università Ca' Foscari Venezia (2003-2005), then became a Lecturer at the same university (2005-2010), while also working as an Adjunct Professor at Università degli Studi di Bergamo (2006-2010). My teaching covered various aspects of Japanese Studies, namely pre-modern and early-modern Japanese literature, classical Japanese and modern Japanese language at both undergraduate and graduate levels. In 2010 I joined the School of Modern Languages at Newcastle University (UK). The interdisciplinary and multicultural environment and, in particular, the privilege of working with two German medievalists/early-modernists (Prof Henrike Lahenemann and Dr Elizabeth Andersen) nurtured some of the theoretical aspects of my research on Japanese early-modern prose. I was invited to be a visiting scholar at the University of British Columbia (2008), Keio University (2009), Leiden University (2009), Leuven University (2009), Ritsumeikan University (2010). I am the Secretary of the European Association of Japanese Resource Specialists (EAJRS) and a member of the Council of the European Association for Japanese Studies (EAJS), 2011-.
My main research field is Edo-period popular prose in the vernacular. To know more about me and my research interests, please access my webpage.
In Cambridge I mainly teach courses related to classical Japanese and early-modern Japanese literature. I welcome enquiries to supervise undergraduate dissertations in these fields. I also welcome PhD students who are interested in studying Edo-period literature at the University of Cambridge.
To AMES students at Emma: For academic queries about your studies, please feel free contact me at lm571@cam.ac.uk. My office is located in North Court Z16.
---
Teaching Interests
https://sites.google.com/site/drlauramoretticambridge/
---
Subject
---
Email
---