Dr Laura Moretti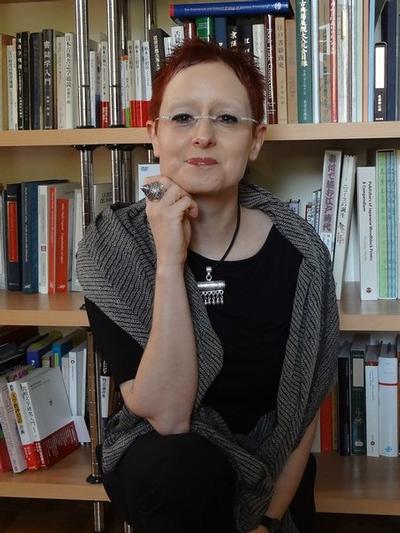 MA (Venice) MA(Cantab) PHD (Venice)
Official Fellow; Director of Studies in Asian & Middle Eastern Studies
University Senior Lecturer in Pre-Modern Japanese Studies; Undergraduate Coordinator for Japanese Studies
Biography
Laura Moretti took up her post at The University of Cambridge and Emmanuel College in 2012. She started her teaching career as a Teaching and Research Associate at Università Ca' Foscari Venezia (2003-2005), then became a Lecturer at the same university (2005-2010), while also working as an Adjunct Professor at Università degli Studi di Bergamo (2006-2010). In 2010 she moved to the UK and taught at the School of Modern Languages at Newcastle University (UK). She also offered a number of papers at the University of British Columbia (2008), Leiden University (2009), and Leuven University (2009). Her passion for teaching has led to the award of a number of teaching prizes:
2019: Pilkington Prizes in recognition of contribution to excellence in teaching at Cambridge.

2019: CUSU student-led teaching award in the category of Undergraduate Supervisor (School of Arts, Humanities and Social Sciences).

2015:

CUSU Teaching Award for outstanding lecturer.
A message to prospective students interested in Asian and Middle Eastern Studies:
If you like challenges, Asian and Middle Eastern Studies is the right course for you. We welcome students from all backgrounds, who are passionate about mastering complex languages and becoming experts in cultures that are key to the 21st century. Emmanuel is an ideal college to pursue this course: you become part of a warm community of likely-minder colleagues, you are supported by caring staff, and you live at the very heart of Cambridge. If you choose Japanese Studies you will also have the opportunity to participate in the exciting Rikkyo-Emmanuel Exchange, unique to Cambridge.
You can see some of our students and myself "in action" in a number of videos hosted on the Faculty YouTube channel for Japanese studies.

For more information about any aspect of the course please feel free to contact me at: lm571@cam.ac.uk.
---
Teaching Interests
Dr Moretti teaches a number of undergraduate papers:
1) Translation classes for first-year students.
2) Classical Japanese for second-year students and advanced classical Japanese for final-year students.
3) Japanese pre-modern literature for second-year students and for final year students.
She has supervised several undergraduate and graduate dissertations in the field of pre-modern and early-modern Japanese literature. She welcomes MPhil and PhD students who wish to work on early-modern Japanese literature, book history, textual scholarship, and palaeography.
Her desire to train a new generation of young scholars who can read early-modern Japanese archival materials in their original format as led Dr Moretti to start the Graduate Summer School in Japanese Early-modern Palaeography in 2014. It runs every year in the first two weeks of August and attracts a high number of graduate students from all over the world.
---
Research
Dr Moretti works on early-modern Japanese literature. She is particularly interested in the popular prose that was issued by commercial publishers throughout the 17th, 18th, and 19th centuries. For a list of her publications and of her research project please access her Faculty webpage.
Dr Moretti earned her PhD in 2003 at Università Ca' Foscari Venezia (Italy) but was trained mainly at The University of Tokyo under the supervision of by Profs Nobuhiro Shinji and Nagashima Hiroaki. She pursued her interests in 17th-century popular prose by working with Prof Fukasawa Akio (Showa Joshi Daigaku) and Oka Masahiko (NIJL and Sophia University).
---
Subject
---
Email
---