Emmanuel has an active student community committed to access work. This page highlights their work, particularly currently the ECSU Y11 Shadowing Scheme (for students from our link areas/link schools who identify as part of UK ethnic minority groups).
Applications for this programme are now closed.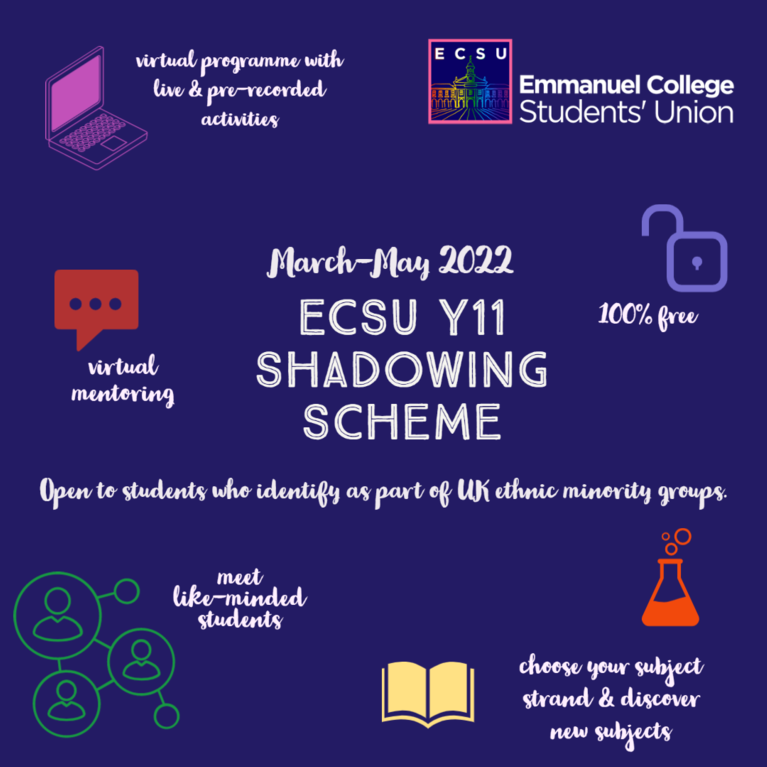 ECSU Shadowing Scheme 2022
Following a successful pilot in 2021, this year the Emmanuel College Students' Union will again be running an online Shadowing Scheme for Year 11s from Essex, Thurrock, Southend-on-Sea, Sheffield or ConnectToCambridge schools. It will be open to any student in these areas who identifies as part of a UK ethnic minority group.
The scheme will involve:
Lectures, supervisions and other academic opportunities,
Weekly meetings and socials with current students,
The opportunity to develop study skills and prepare for learning at Sixth Form & beyond,
A chance to visit Emmanuel College in-person.
We expect applications for this programme to be competitive, and so candidates should be prepared to commit to at least 1hr of activity per week (although where this is not possible, we will do our best to accommodate).
Applicants must meet the following criteria:
Live and attend school in Essex, Thurrock, Southend-on-Sea, Sheffield OR attend an Emmanuel College ConnectToCambridge school,
Be in Year 11,
Identify as part of any UK ethnic minority group—if you are not sure if this applies to you, please email slo@emma.cam.ac.uk
Additionally, applications will be prioritised based on the following criteria (in no particular order):
Ethnic minority groups which are most under-represented at the University of Cambridge (Black, Bangladeshi, Pakistani & Arab students)
Attending non-selective, state maintained school.
In care/care leavers
Eligible for Free School Meals/have been eligible in past 6 years
Live in area with low level of progression to HE
Estranged students
Young Carers
First in Family to proceed to HE
Educational disruption or other factors—please email slo@emma.cam.ac.uk if you wish this to be taken in to account in your application.
In the following form, in addition to contextual information as above, applicants will be asked to fill in two questions (which you may wish to prepare in advance):
In 1000 characters or less, why are you interested in participating in the ECSU Shadowing Scheme 2022?
In 1000 characters or less, tell us about something that has interested you academically (for example, a book you have read, something you learnt in science class recently).
Safeguarding
All sessions will be supervised by at least one DBS checked staff/student. There will be no 1–1 sessions, and no opportunity for students to communicate on a 1–1 basis with their mentors.
All mentors and students involved will have received dedicated safeguarding training; and parent/guardian permission will be required for participation in the programme.
If you have any questions about this, please email slo@emma.cam.ac.uk