College News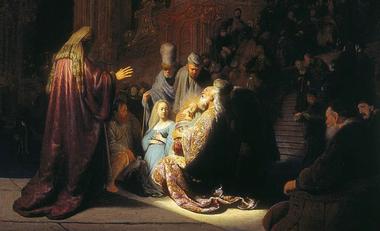 We live in dark and difficult times and so it is appropriate that in Candlemas, at the beginning of February, we find a Church festival that speaks to us of light in the midst of darkness.
The story of Candlemas, recounted towards the beginning of Luke's gospel, takes place 40 days after Jesus' birth. Following Jewish custom, Mary and Joseph take their baby to the Temple in Jerusalem, to present him to God and to make the prescribed offerings. There they are met by two old people Simeon and Anna, both of whom have been promised by God that they will see the Messiah before they die. Simeon takes the child in his arms and says:
Lord, now lettest thou thy servant depart in peace
according to thy word.
For mine eyes have seen thy salvation;
Which thou hast prepared before the face of all people;
To be a light to lighten the Gentiles
and to be the glory of thy people Israel.
words that we sing or say at each service of Evensong. The idea of Christ as 'a light for the nations' gives rise to the custom of having a procession with candles to mark the feast, and gives it its name.
In this representation of the scene by Rembrandt he bathes the central group of figures in light so that they stand out against the dark background of the towering building and the surrounding onlookers. The old man Simeon looks up to heaven while Mary and Joseph are taken aback by the sudden attention. Simeon and Anna have waited patiently and now they see the light of salvation in an unexpected place. So Candlemas is a feast that helps us learn to see the light, even when all seems dark.
Simeon and Anna have done most of the things that they are going to do in their lives. Their physical strength is waning, their social position has been passed on to those with more energy. They are left waiting and watching, looking into the darkness. And because they cannot do very much, their waiting is focussed on what God is doing in this darkness and on trusting in his purposes. So the light that Anna and Simeon see is the light that you perceive by waiting patiently in the darkness.
It is not therefore the light of easy triumph or simplistically hoping that things will come out all right in the end. It is a light for revelation, Simeon says, the revelation of the deeper purposes of love. This is how love works. It gives itself even in the darkest places and times. That is the light we celebrate at Candlemas.
As a tiny baby Jesus takes our weakness so that we can embrace the strength that is the divine love.
Back to All News Posts