Dr John Harvey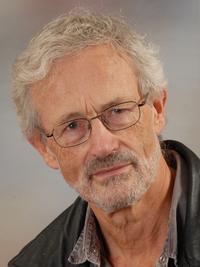 MA LittD
Life Fellow
John Harvey had three books out in new covers last year. His Story of Black (2013) came out in paperback in July 2015: he discussed the book on the BBC's 'The Verb' and 'Thinking Allowed' programmes and again in a broadcast discussion at the Getty Centre in Los Angeles on 1 May 2016.
Also his novel about the Ruskin marriage, The Subject of a Portrait (2014), came out in a new hardback edition in January 2015 and was described by Lucy Scholes in The Independent as 'a discerning and rather sumptuous study of one of history's most infamous love triangles'. The novelist Anita Desai found it 'so alive, so full of movement and momentum', and the distinguished literary critic Christopher Ricks described it as 'excellent; I was taken by every page; more, every sentence. It is beautifully and startlingly written, the sudden shifts and turns, impulse and counter-impulse within and from these remarkable people. A very fine love story.'
His actual new book last year was The Poetics of Sight (from Peter Lang) which featured in the THES's 'What are you reading?' column in July. The Poetics of Sight relates the visual life of poetry to the poetic life of pictures. It demonstrates the structure of what might be called 'a complex sight' within the metaphors of Shakespeare, Pope, and Dickens, and within the pictorial metaphors of Picasso, Magritte and Bacon. It offers a radical critique of the great and the failed works of the supreme poet-painter, William Blake, and records the rise and partial decline of the vividly 'seen' novel in Dickens, Flaubert, Tolstoy, Proust, Hardy. The key concept throughout is that of the 'visual metaphor', which in the twentieth century especially acquired overarching importance: in art from Duchamp to Kapoor, in poetry from Eliot to Hughes, in aesthetics from Pound to Derrida. In Tredynas Days Simon Lavery praised the book's 'lucid, elegant prose', concluding 'I commend this book: it'll change the way you read' (1 June 2015).
In fact The Poetics of Sight very much derives from teaching done in recent years in Emmanuel and in the English Faculty. John Harvey has been a Fellow of Emmanuel since 1967. He became a full Lecturer for the English Faculty in 1979, and in 2000 was appointed University Reader in Literature and Visual Culture. At Emmanuel he has been Tutor, Praelector and Director of Studies in English. He has chaired the College's Picture, Plate and Furniture Committee, and the Picture Guild which has an annual budget to buy contemporary works, and he has regularly organized exhibitions of contemporary art at Emmanuel. He was a co-organiser of the epic Moscow in Cambridge art exhibition, held at Emmanuel, Clare College, and Churchill, in 1990, which received substantial cover in the national press. He later travelled to Moscow to organize the further exhibition of Russian contemporary art held at Emmanuel in 1994. He was Vice-Master from 2004 to 2006.
Much of John's published work relates to sight and visual issues. His first book, Victorian Novelists and their Illustrators (Sidgwick and Jackson, 1970), is acknowledged as the authoritative pioneering study in the field of literary illustration. More recent books include Clothes (Acumen, 2008) which was praised in Essays in Criticism for 'its verbal exuberance...the writer's delight in language and rhythm', and for covering 'all the important issues that clothes provoke – historical, theoretical, social, psychological, material, aesthetic'. Vathmedon /Stairs (University Studio Press, Thessaloniki, 2011), co-produced with Aris Georgiou, is a photographic essay, with a text in English and Greek, on our most ancient invention, and regular symbol, for rising and descending.
John has also written two complementary books on the colour black, mentioned in his 'Spotlight' page. Men in Black (Reaktion Books, 1995) was described in the Library Journal as 'the best contribution to the growing body of literature on the meaning of clothes and colours'. It was shortlisted for the Grand Prix du Livre de Mode in Paris, and to date has been translated into seven languages. The Story of Black (Reaktion Books, 2013) was described in the Journal of Visual Studies as 'composed and elegant . . . an excellent, readable and even joyful general introduction to a complex topic' and in the Literary Review as 'a richly informative treat, with curiosities culled from a very wide range of sources, and written with unostentatious elegance . . . a book to instruct and delight'. The Japanese translation is already out and other translations are preparing for Korea, Mainland China and Taiwan.
John has published four novels. The Plate Shop (Collins, 1979) is one of very few novels to enter the factory gates. It depicts shop floor life in a heavy engineering works, as observed at first hand, and won the David Higham Prize for Fiction; it was also shortlisted for the Hawthornden Prize and the Yorkshire Post Fiction Prize. Coup d'Etat (Collins, 1985) depicts life under the military dictatorship in Greece, and also portrays the dictators themselves. It anatomizes the life-cycle of a dictatorship from revolution to collapse, and just missed the Booker shortlist for the 1985. Coup d'Etat was described by the literary critics Anthony Thwaite and Geoffrey Strickland as 'Tolstoyan' and was selected by Chris Patten (in The Sunday Telegraph) as 'the novel which shows the best grasp of political life'. The Legend of Captain Space (Collins, 1990) considered how strange and frightening the experience of motherhood may be: A. S Byatt said in The Independent that it created 'perfected instances of some terrible mystery of human existence'. His latest novel, The Subject of a Portrait (Polar Books, 2014), was called in The Independent (in a separate piece from that quoted earlier) a 'captivating story of a love triangle peopled with sympathetic characters'.
John has published many articles on literary and on visual topics, for example on Armani, Beckett, Blake, Courbet, Cruikshank, Dickens, James, Leavis, Shakespeare, Tolstoy. He has reviewed widely for the national press, and has given keynote speeches and invited lectures to audiences ranging from the MLA in New York to the Praesidium of the Russian Academy of Fine Art in Moscow. He has been a Trustee of the Dickens Society of America and of the Cambridge Darkroom Gallery. In 1970 he redesigned the service of plates that are used by students in Hall at Emmanuel.
---
Email
---