Professor Neil Dodgson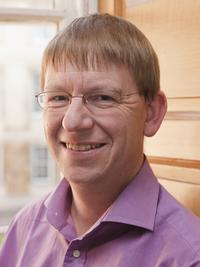 BSc (Massey), PhD, ScD, CEng, FIET, FIMA
Professorial Fellow
Professor of Graphics and Imaging in the Computer Laboratory
Biography
Neil Dodgson took his first degree in Physics and Computer Science at Massey University in New Zealand. In 1989 he came to Cambridge (Wolfson College) to undertake a PhD in image resampling, under the supervision of Neil Wiseman at the Computer Laboratory. His post-doctoral work was on two projects: autostereoscopic 3D displays, with the company ASD Systems Ltd and the Computer Laboratory; and graphic design for ceramic tiles, on an EU project at the Computer Laboratory. In 1995 he was appointed to a University Lectureship at the Computer Laboratory and joined Emmanuel College as its first Fellow in Computer Science and first internal Director of Studies in Computer Science, following in the footsteps of Neil Wiseman, who had for many years acted as external Director of Studies. In addition to his College teaching, he was Assistant Bursar, 1998-2008.
He was Head of Teaching for the Faculty of Computer Science and Technology (2005-2008) and Deputy Head of the Computer Laboratory (2010-2013).
---
Teaching Interests
In the University, Neil Dodgson teaches advanced computer graphics on the Computer Science Tripos and research skills to MPhil students. .
---
Research
His research is in geometric modelling, 3D TV, and aesthetic image processing. He has supervised a dozen PhD students to successful completion, and has raised and managed over £2.3M of research funding.
Research details, publications and so forth are available on Professor Dodgson's Department of Computer Science page
Subject
Email
---