Dr Robert Macfarlane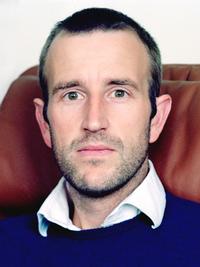 BA, Ph.D. (Cantab), MPhil (Oxon)
Official Fellow; Director of Studies in English
University Senior Lecturer in Post-WWII Literature in English
Biography
Robert Macfarlane took up his post as Fellow in English in 2002. After completing his BA at Pembroke (1994-97), he spent two years studying at Magdalen College, Oxford, and a year teaching at a university in Beijing, before returning to Cambridge for his Ph.D.. In 2006 he was appointed to a University Lectureship in Post-WWII Literature in English.
---
Teaching Interests
Dr Macfarlane teaches widely in the English Tripos. At Part II he runs a seminar course on Contemporary Writing in English, and he lectures on various subjects including twentieth-century travel writing, varieties of postmodernism, John Ruskin, William Golding, Cormac McCarthy and Don DeLillo. At graduate level, he convenes an MPhil course entitled The Post-Pastoral: Approaches to Nature Since 1940. The subjects of his PhD students have included ethics and mysticism in post-war fiction; the Scott/Terra Nova expedition 1910–1913; 'hyperspace' in American short fiction 1960–1980; and the British overseas travelogue 1900-1942.
---
Research
Dr Macfarlane's research and writing interests include the nature-writing tradition, travel writing, originality and plagiarism, the relations of ecology and literature, the Anglo-American novel since World War II, contemporary poetry and Victorian environmentalism. He is well-known both as a critic and writer. His first book Mountains of the Mind: A History of a Fascination (Granta: 2003), won The Guardian First Book Award, The Sunday Times Young Writer of the Year Award, and a Somerset Maugham Award, and was filmed for BBC4. Original Copy: Plagiarism and Originality in the Nineteenth Century, a monograph study of Victorian ideas of literary property and propriety, was published by Oxford University Press in 2007. The Wild Places (Granta) - a travelogue exploring the histories and landscapes of 'the wild' in Britain and Ireland - was published in 2007. It won a number of prizes in Britain and North America, including The Boardman-Tasker Prize for Mountain Literature, and was adapted by the Natural History Unit for BBC2. The Old Ways, the third and final book in a loose trilogy of works about landscape and the imagination, is published by Penguin in 2012. Dr Macfarlane also writes regularly on literature, travel, nature and the environment for The Guardian and The Times Literary Supplement, among other publications.
Subject
---