Chefs @Emmanuel
Emmanuel College is proud of its reputation as the best place for private dining in Cambridge – our award winning chefs use seasonal and local produce and offer a choice of imaginative menus – combined with discreet and attentive service to ensure each lunch or dinner is something special.
---
24th IKA/Culinary Olympics 2016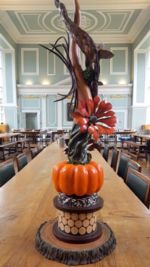 Emmanuel College chefs triumphed at the 24th IKA/Culinary Olympics in October 2016 held in Erfurt, Germany. In 18 glass kitchens more than 2,000 chefs from over 50 countries competed.
Nathan Aldous and Dan Abbs got the Bronze Medal for the cold table display and Gold Medals for the hot kitchen as part of the English Culinary Team. Head Chef, Matt Carter, won a bronze medal in the Culinary Art class for the Craft Guild of Chefs Team.
---
Hotel Olympia 2016
Members of the Emmanuel College kitchen brigade took part in the recent Hotelympia competition and again swept the board.
For the Cambridge Culinary Team
Matt Carter - Gold in Starter Plates
Maciej Kaminski - Silver Best in Class in Vegetarian 4 course menu
Josh Dissington - Silver Best in Class Amuse Bouche
Damien Aldous - Bronze Perfect Pasta
Karen Hankin - Bronze Sugarcraft Display
Josh Collins - Bronze Terrine Display
Tino Maio - Merit Fish Plates
Tony Maio - Merit Two person platter
For English Culinary Team
Team Buffet Gold
Dan Abbs and Nathan Aldous - Chocolate Centrepiece, Petit Fours and Dessert plates
---
Cambridge Culinary Competition Feb 2015
Matt Carter: Gold best in class for Finger Foods, silver for Fish and silver for Vegetarian Class

Tony Maio: Gold for Duck Class, bronze for Restaurant Starters and Restaurant Mains and bronze for Major Chef of the Year

Dan Abbs: Gold best in class for Restaurant Desserts and silver for Coffee Shop Cake
Karen Hankin: Bronze for Coffee Shop Cake
Michael Slade: Silver for Duck Class
Maciej Kaminski: Bronze for Street Food
Nathan Aldous and Dan Abbs: Gold best in class for Low Carbon
Emmanuel College: Best Hygiene and joint winners of the Stewards Cup (awarded to the best performing team of the competition)
---
Hospitality Salon Birmingham Jan 2015
Dan Abbs: Gold best in Class and best restaurant plate for Dessert
Tony Maio and Dan Abbs: Silver and best in class for the mystery box grand prix
Florentino Maio: Bronze best in class for Student Main plates
Josh Collins: Merit Best in class for Student Starter plates
---
Salon Culinaire 2014
At the 2014 Salon Culinaire in London the following results were achieved by Emmanuel College Chefs:
Gold best in class
Maciej Kaminski – Dessert Plates
Silver best in class
Matthew Carter – Three course menu
Silver
Dan Abbs – Dessert Plates
Tony Maio – Master Chefs of Great Britain Fish Course
Nathan Aldous – Petit Fours
---
The 2014 Culinary World Cup
Emmanuel College chef, Nathan Aldous, was chosen for The British Culinary Federation England team which competed at The Culinary World Cup in November 2014. He won a silver medal in the cold buffet section.
---
TUCO Competitions 2014
The annual TUCO Competitions took place in Blackpool on 17th and 18th March 2014.
In the Chefs' Challenge Team Event, competitors were given a mystery box of ingredients and challenged to prepare a three course meal for two. 22 teams of two took part and Emmanuel's Nathan Aldous and teammate Byron Franklin were named winners.
Five of the seven Cambridge team at the TUCO competitions were from Emmanuel and won a host of prizes:
Dan Abbs won silver in Class Plated Dessert and gold in Class Coffee Shop Cake.
Matthew Carter won gold in Class Plated Main and silver in Class Fruit Pie.
Tony Maio won silver for Canapés.